Vention
We utilize Vention's modular kits for mobile pedestals, rails, range extenders, gantry plates, turntables, indexers, and more.
ROBOT PEDESTALS AND BASES
Tailor modular robot bases to your manufacturing environment
Vention's robot pedestals and bases are designed from industrial modular components, fully tailored to your manufacturing environment. Robotic arms can be floor-mounted for high-speed applications or mobile for maximum agility between stations. The modular components are delivered ready to be assembled, with no additional drilling or cutting required.
Configurations of Robot Pedestals and Bases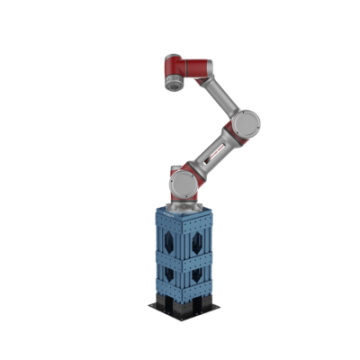 FLOOR-MOUNTED PEDESTALS
Pedestals with floor-mounted designs provide additional stability necessary for high-payload or high-precision applications. Designs can be customized for either fixed or telescopic heights to match your needs.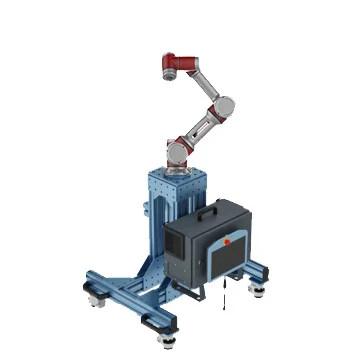 MOBILE PEDESTALS
Change tools within 5 seconds with minimal impact to payload and programming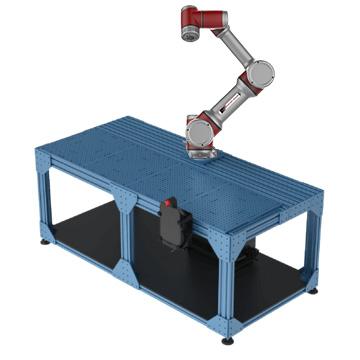 ROBOT WORKSTATIONS
Tabular workstations can help improve the efficiency of manual tasks. Complete assembly, material transfer, or inspection tasks faster and with greater accuracy.
Specifications
| | |
| --- | --- |
| Height | 585mm (min) to 1215mm (max) |
| Pedestal weight | 30kg (min) to 150kg (max) |
| Cobot Models | 2000Nm (cobot models vary) |
| Floor mounting | Leveling caster, leveling foot, floor anchor, rubber bumper feet |
| Accessories | Pendant mounting, robot controller mounting, robot stand docking |
Easy to Assemble
1-4 hours
PICK & PLACE
Enhance your production line with a pick & place robot cell
Introduce automation to your production line in the fastest and easiest way possible. Using Vention's modular parts library, design a robot pick-and-place cell specifically for your factory floor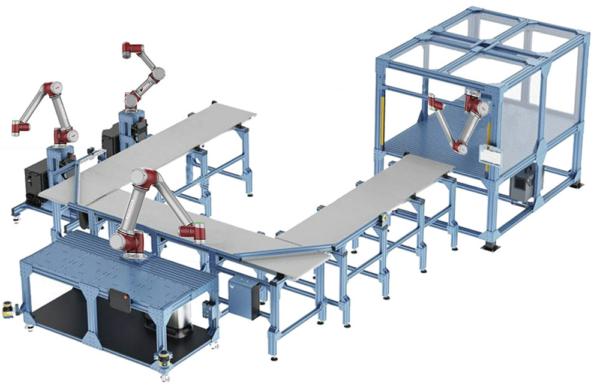 Configurations of Pick & Place Cells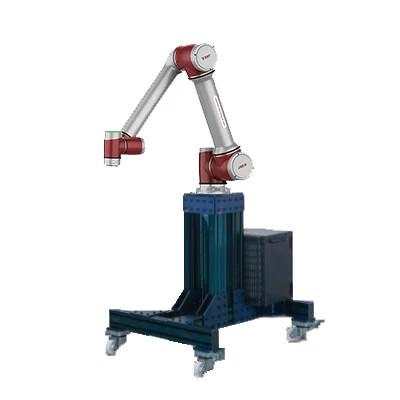 STANDALONE ROBOT
Start your pick & place operations from a simple robot pedestal design and select your gripper, safety modules, and peripheral equipment according to your specific needs.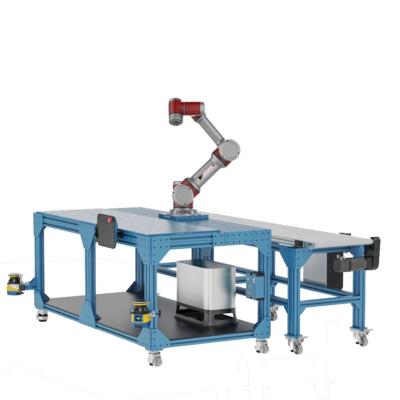 FENCELESS CELL
Leverage the collaborative function of cobots with a fenceless cell. Add optional laser area scanners if the robot needs to operate at non-collaborative speeds during its cycle.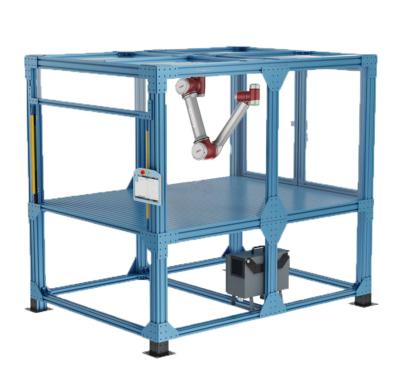 ENCLOSED CELL
In non-collaborative situations where sharp objects move at high speeds during the cycle, add an enclosure around the robot. Add optional light curtains to maintain easy access to the work environment.
Easy to Program

Code-free interface

​Large Ecosystem

Bases, EOAT, safety, conveyors, enclosures, and more

Fast Shipping

Under 2 weeks

ROBOT RANGE EXTENDER
Expand your work envelope with a customized range extender
Extend the range of your cobot, with a plug & play, pinch-point-free 7th axis from Vention. Customize your range extender by choosing from three types of linear actuators and three design configurations. Vention's robot range extenders also come with a MachineMotion V2 controller, enabling intuitive and code-free deployment.


Explore your customization options
Vention's parts library has everything you need to optimize your design
Choose between an enclosed ball-screw, enclosed timing-belt, or rack & pinion actuator to match your needs
Browse the selection of electric, pneumatic, and vacuum end-of-arm tools for your specific application
Add plug-and-play safety devices like e-stop modules and area scanners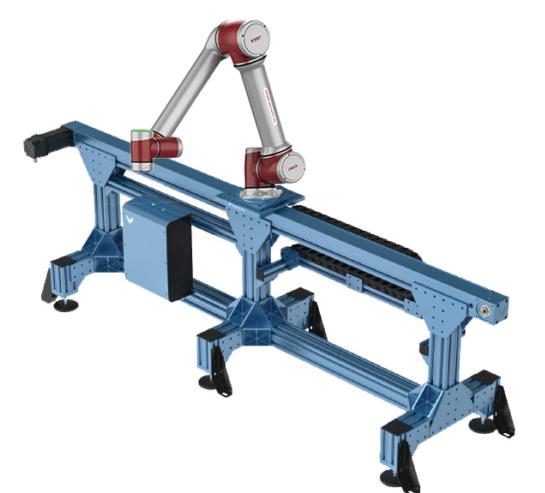 Specifications
| | | | |
| --- | --- | --- | --- |
| Linear Actuator Type | Rack and Pinion | Enclosed Timing Belt | Enclosed Ball Screw |
| Configurations | Overhead, vertical, horizontal | Overhead, horizontal | Horizontal, vertical |
| Repeatability (mm) | Up to +/-0.25 mm (including backlash) | Up to +/-0.025 mm | Up to +/-0.025 mm |
| Travel (mm) | Fully modular | 585, 855, 1530, 2295 | 145, 370, 640, 1315, 2080 |
| Speed (mm/s) | 2000 | 2000 | Up to 750 |
| Acceleration (mm/s2) | 2000 | 2000 | 500 |
| Linear capacity (IN) | 1000 | 1100 | 3250 |