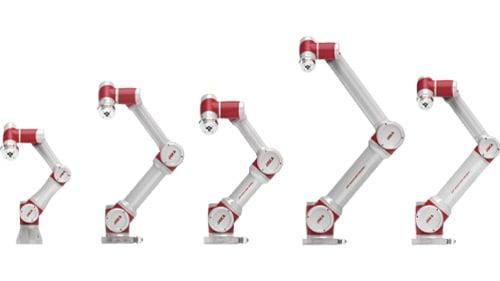 As Seen in Plastics Technology
Your Part. Your Process. We're Ready!
Collaborative robots enable molders and tool shops to overcome labor shortages, improve quality and lead time, gain scheduling flexibility, and reduce costs. These are ideal for machine tending, loading/unloading fixtures or secondary operations, bin picking, palletizing inspection, light fabrication, packaging, and more.
Features include 6-axis hand-guided or drag-and-drop programming via a wireless app, up to 39 lb payload, 52" working radius, max speed up to 3.5m/s, repeatable to +/- .02mm, configurable I/O integration, and force control natural human-cobot cooperation. ReadyCobot combines these with OnRobot's easy-to-use gripping technology, sensors, vision systems, tool changers, and other kits as needed. Pedestals, carts, rails, range extenders, turntables, and indexers are configured using Vention solutions. Custom bowl feeders, conveyors, or other automation solutions are also available.
Root Industrial oversees sales and manufacturing representatives for the plastics industry throughout the US. Proof of concept videos are created in Elkhart, IN by Root Industrial and ReadyCobot, a division of long-time automation integrator Tube Form Solutions. Are you ready? Visit readycobot.com/get-ready/ or see a live demo at PTXPO March 29-31 booth 621.